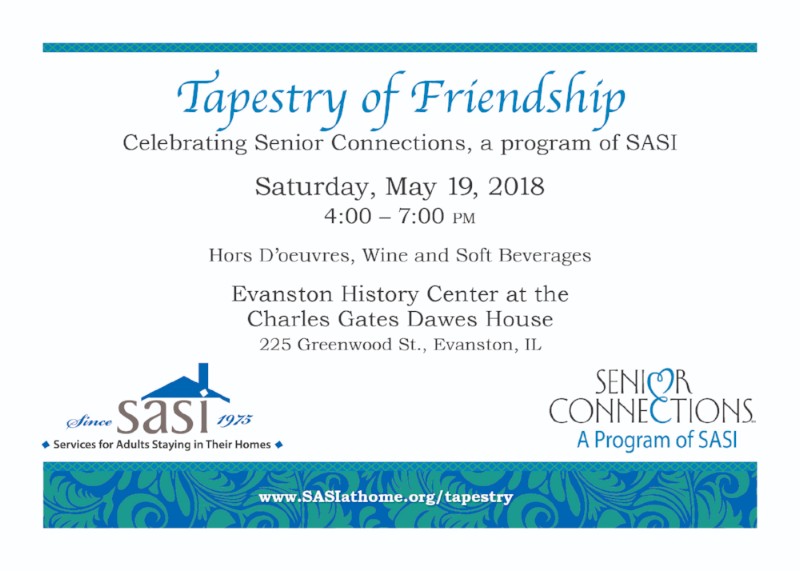 Join all of SASI at the annual Tapestry of Friendship event on Saturday May 19th. Once again we will be at the Evanston History Center located in the lovely and historic Charles Gates Dawes House.
Proceeds from this event support SASI's Senior Connections friendly visitor program. Senior Connections pairs volunteer visitors with older adults looking to expand their engagement and share their life experiences with others in an ongoing one-on-one relationship. Senior Connections recruits, screens and trains volunteers to be the other half of these relationships.
Senior Connections proves that "one hour a week can change a life." Come celebrate that with us!
Reservations include wine, beer or soft beverages and delicious hors d'oeuvres. There are several raffle drawings and a live auction.
We hope you can join us but if you can't you can join in the fun and support SASI's Senior Connections program by purchasing raffle tickets. We have many unique offerings and detailed descriptions are below. You need not be present to win.
Raffle tickets are $10 each or three for $20. Purchase on-line here and/or at the event.
Multiple raffle tickets may all be allotted to one drawing or assigned to different drawings. When purchasing on-line you will need to complete a separate form for an individual ticket and/or each set of three raffle tickets. You may also call the office at 847/864-7274 and purchase over the phone 9 am – 5 pm through May 18.
And now for the goodies. You can purchase a single raffle ticket for $10, or buy 2, get one FREE for $20, what a deal! Please note: you MUST be 18 or older to purchase raffle tickets, but your presence is not required to win.
Raffle Tickets:
1. Evanston On Tap: Selections of local brews.*
Growler from Temperance with 6 months of refills! Certificates from Sketchbook (enough for a beer, a nosh and a growler. . . or two!), another local brewery, and "watering holes" like Bluestone. Plus, if you need to improve your knowledge World of Beer will take you through beer basics. What is that you ask? It's all about beer history and styles . . . of course you will need to sample some of those styles and eat a little something—luckily that is included. Learning can be so much fun! Must be 21 years old or older for this package.
2. Dining Al Fresco: All you need: wine to drink & food to grill—even the grill!
Open a nice bottle of wine and light up the BBQ. Everything is here: wine, certificate from Burhop's (fresh grilled shrimp anyone?) and a brand new baby Weber grill. There's enough to share . . hint, hint.
3. On The Town: Wine, dine, entertain & enjoy yourself. Bring a friend.
Start with a cocktail at La Macchina then take in a movie at the Evanston Century Cinema, discuss it all at Oceanique over their amazing Tasting Menu (and wait till you see their wine list!). We even provide some gourmet chocolate for the movies but you're on your own for fresh popcorn.
4. Taste of Skokie: Now in Skokie, Senior Connections has discovered great eateries!!
We are so happy to have Senior Connections expand into Skokie. Volunteers are already reporting on the wide variety of good, good food there, and we have certificates from some of their new favorites including: Hub's, Kabul House (ok, technically no longer in Skokie, but close), Dengeo's, Libertad and Jameson's.
5. Spring Fitness: New & old ways to be fit and enjoy our community.
Looking for new walking trails ? Look no further than "60 Hikes Within 60 Miles" or "Walking Chicago"—both guidebooks are included in this package. We've a certificate for a lesson using Nordic Walking Poles and another certificate you can use at Uncle Dan's towards purchasing those poles. Don't forget strength training—you'll get that with a One Year Fitness Membership at the Levy Center. Plus: Evanston beach passes, an iTunes gift card (got to have tunes!) and relaxing massage to sooth those tired muscles when you are done.
6. Pamper Yourself: How about a mani? Pedi? Massage? You deserve this and more.
Give yourself a personal mental and physical health day. Start with a mani or pedi and follow up with a massage—all from Egea Spa. Add a final touch of beauty with a haircut/styling from Art + Science Salon. Complete the pampering with the most amazing chocolate ever from Piron Belgian Chocolatier and a nice bottle of red wine. Sigh.
7. In Fine Spirits: Enjoy lux liquors.*
What can we say? A superior collection of adult beverages for those with discerning tastes. Or those who aspire to discerning tastes. Must be 21 years old or older for this package.
8. ABCs: Art, Boutiques & Coffee
We present to you a potpourri of offerings. First up is an original pastel art work by local artist Barbara Sittler—yes, that Barbara Sittler, former Executive Director of Senior Connections. We even have a certificate from Sevan Gallery in Skokie that you can use to frame this piece. But wait! There's more: gift certificates from local boutiques Lois & Company and Stella. Good grub from Boltwood. For coffee connoisseurs we have product and certificates from Backlot Coffee and Brothers K.
* Must be 21 years old or older for this package.
** Specific contents of Raffle Drawing are subject to change without prior notice—substitutions will be made at the discretion of SASI and will be of equal or greater monetary value.
Approved by the City of Evanston.