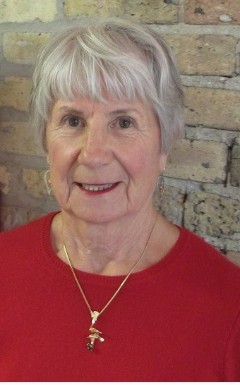 The Ellen Browne Caregiver of the Year Award was created in 2016 with the receipt of a generous gift from Ben and Rebecca Gerber. Ben was a past president of SASI's Board of Directors. The award honors an exceptional SASI employee Home Care Aide and is named for the late Ellen Browne of Evanston.
Ellen Browne had been a volunteer with SASI for over a decade serving on the Board of Directors and as Board President. She also chaired multiple committees including the planning for one of the most successful fundraisers in SASI's history. In addition to her service to SASI, Ms. Browne had also served as volunteer and/or member to:
North Shore Village
American Society on Aging
Evanston League of Women Voters
Evanston Skokie Valley Senior Services Advisory Council Member
Terra Nova Films
Evanston Mental Health Board
Illinois Alliance for Aging
"Her considerable energies combined with her professional experience and knowledge gave Ellen the ability to observe, analyze and act—and this served SASI well," said Jeanie Ramsey, Executive Director of SASI. "She had always been a champion for our caregivers. Demanding the best of them and for them—that they be well trained, fairly paid, respected professionals. It is right this award be in her honor."
Speaking about why he and his wife wanted to honor Ellen, Ben Gerber, who Ellen had recruited to serve on SASI's Board of Directors in 2013, testified "Ellen had been a strong and unwavering supporter of SASI for many years. Her commitment to serving seniors had a tremendous influence – not only on the fabric of the organization itself – but upon us as individuals. Ellen herself described SASI's philosophy of care as being one where all older adults deserve respect, regardless of age or physical limitation." Ben adds that "Ellen was proud that this philosophy is instilled in SASI caregivers."
Jeanie echoes Ben's thoughts "important as Ellen's service as a model volunteer and leader for SASI was, her being a role model for resilient aging was equally important. Ellen demonstrated the best of aging—the side that media frequently ignores. We are thrilled to be able to honor Ellen in such a fitting way."
Donations to the Ellen Browne Caregiver of the Year Award are always welcome and can be directed to that purpose on our donation form.
Caregiver of the Year Award Winners
The Ellen Browne Caregiver of the Year award is given annually in November during National Caregiver Month.
2016 - Olayinka "Ola" Shoneye