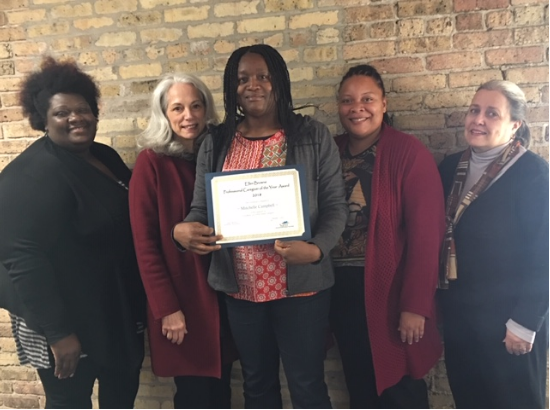 ---
Mitchelle Campbell
2018 Professional Caregiver of the Year
SASI is very pleased to announce that Mitchelle Campbell has received the Ellen Browne Caregiver of the Year Award, designated by Ben Gerber, former SASI board president, and named for long-time SASI supporter and leader in the field of aging, Ellen Browne. The award honors an exceptional SASI caregiver interested in expanding his or her skills and knowledge in their work with older adults. 
A SASI employee for seven years, Mitchelle exemplifies excellence every day. In her application essay, Mitchelle explained her calling: "Being a caregiver for me is a very rewarding experience. Being entrusted with the care of, and having the ability to make a difference in, my client's life day by day, I regard as a special honor, for it has improved my character in so many ways. I believe in the 'golden rule' that tells me to do to others as I would them do to me. To walk away from a client's home at the end of my shift, knowing that I had given them the care they needed, and shown them the compassion, patience and respect they deserved, often puts a smile on my face. It is very fulfilling for me knowing that I had made a person's day better."
Mitchelle also shared that her passions for helping others has motivated her to keep improving herself, to gain knowledge and skills so she can better help her clients within the scope of her position. 
SASI wishes Mitchelle well in her continuing endeavors in this field and congratulates her on this award. SASI thanks all our caregivers: we are proud of your pursuits fulfilling your vocation and appreciate your excellent skills and compassion as caregivers.